Sarah Ignatius has worked as a lawyer, executive director of non-profit organizations fighting for people's human rights, and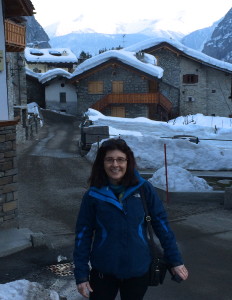 writer of young adult fiction. She is half-Armenian, was born in Boston and ended up living in California, Washington, D.C., Montana, and Washington state until she circled back to Massachusetts, where she lives with her husband and son. She likes writing historical fiction because she can bring to life the bravery, kindness and strength of people facing difficult times in the past. She is represented by Valerie Noble at Donaghy Literary.
In 2015, she was a Somerville Arts Council Literature Artist Fellow. She earned her B.A, from Stanford University with Distinction and Honors in Anthropology, and her law degree, cum laude, from Georgetown University Law Center, where she was Articles Editor for the Journal of Law and Policy in International Business.
She also taught immigration and asylum law at Boston College Law School for ten years and is the co-author of Immigration Law and the Family (Thomson Reuters). She authored a detailed report on the U.S. asylum system for Harvard Law School, and her legal articles have appeared in the Harvard Human Rights Journal, Georgetown Immigration Law Journal, Benders Immigration Bulletin, and Immigration Briefings.
In fiction, her manuscript The Devil's Kaleidoscope received the 2015 New England Society of Children's Books Writers & Illustrators' Ruth Landers Glass Scholarship for Novel Excerpt, and Honorable Mention from the 2014 National League of American Pen Women, Soul-Making Keats Awards. Her short story Burning Embers received Honorable Mention from Glimmer Train's 2013 Short Story Award for New Writers. 
For the record, she is Sarah B. Ignatius, not to be confused with her wonderful niece Sarah A. Ignatius, who doesn't write young adult fiction, at least not yet.