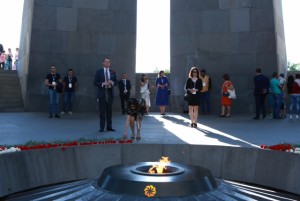 At the Genocide Memorial in Armenia, I knelt and placed my red carnation at the edge of the eternal flame and stood silently with throngs of people who had come from all over the world at the end of May for the Aurora Prize award.
Its full name is the Aurora Prize for Awakening Humanity, and it will be awarded for eight years, from 2015 to 2023, in commemoration of the eight years of the Armenian Genocide in the Ottoman Empire 100 years ago, spanning 1915 to 1923, when 1.5 million Armenians were killed. The prize is given in gratitude for acts of humanity that helped to save Armenians and now recognizes heroes saving lives today in dangerous circumstances around the world. We had come to the Genocide Memorial to pay our respects and would soon head to the award ceremony, where my brother David would be master of ceremonies.
After placing my flower, I stood next to a friend with our backs to one of the huge basalt slabs of the Genocide Memorial, which lean inward in a circle around the eternal flame. I watched other people lay down their red and white carnations, cross themselves, and stand, lost in thought or prayer.
I thought about my father's cousins, aunts, and uncles who were caught up in the genocide. One of my father's uncles, a businessman, was imprisoned and disappeared with nearly all the men in their town. One of my father's aunts perished with her little daughter on the death march that followed the disappearance and murder of all those men. One of my father's teenaged cousins was taken for the Labor Battalion to build roads for the Ottoman Army where unarmed Armenian men worked as slave laborers in places so remote they either died of exposure or starvation or were murdered outright. Another teenaged cousin survived for weeks on the forced march across the desert only to disappear when they neared Ras al Ayn, a notorious death camp for Armenians in Syria. I said the names of all those relatives in my head.
And I said the names of relatives who survived. One cousin of my father's was a little boy, barely alive, left with nomadic people in the desert to care for him and raise him, probably without ever knowing he was Armenian. Two other boy cousins were kept in a Turkish household while their mother was forced to march across the desert to Aleppo, where the U.S. Consul found the women nearly naked, their skin burned "to the color of a green olive." She was able to reunite with her sons and come live with them in the U.S., rarely smiling in photos and nearly always wearing black, baggy dresses. Another one of my father's cousins I met at a family gathering in southern California. A great aunt pointed him out to me, saying only, "He's an orphan." I nodded, not fully understanding what she was telling me. She added, "He married an orphan." I thought it was sad for orphans to marry each other, not realizing she was telling me they were genocide survivors.
I said their names too at the Genocide Memorial.
I had come here once before, in 2006. That time, I felt the spirits of my relatives moving in waves through the basalt slabs, as if they were there, finally finding a final resting place where they could be honored, cherished, and mourned. This time I didn't feel anything occupying the rock walls towering over me. The walls didn't even look impressive. They looked squat and insignificant.
It was only later, looking at the Aurora photographer's photos, which included the moment I placed my carnation beside the eternal flame, that I realized those slabs were as immense as I had thought the first time in 2006.
But this time, all I felt was loss, and maybe a sense of confusion, as if my ancestors and everyone else's were saying, "We don't want your tears or your flowers, we want our lives back."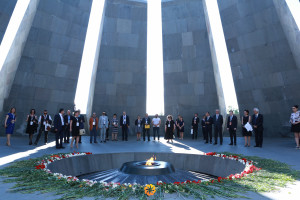 The Aurora Prize this year was awarded a few hours later in a spectacular ceremony to Dr. Tom Catena, the only doctor permanently working in the Nuba Mountains of southern Sudan, treating 500 patients each day while warplanes bomb the region in a deadly civil war. The award was justly deserved and aptly named, to awaken humanity before it is too late.